2021 Winnipeg Crankie Festival Schedule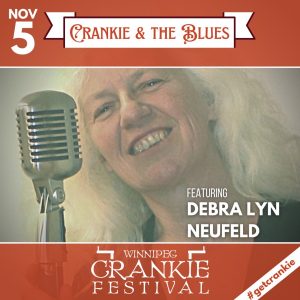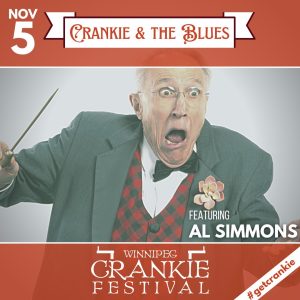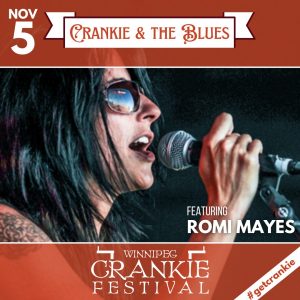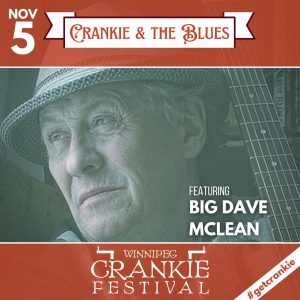 Time & Place: 7 p.m. at the West End Cultural Centre
Featured artists: Al Simmons, Big Dave McLean, Burnstick, Debra Lyn Neufeld, Romi Mayes
The Winnipeg Crankie Festival is thrilled to welcome you to the first ever West End Crankie Show, Crankie and the Blues. We are excited to present some of Winnipeg's most well known blues and roots artists, hosted by internationally acclaimed vaudevillian Al Simmons.
Each amazing act in this show has made a mark on the local and international roots music scenes. Performing onstage in the round, the artists will share exciting original music, as well as a couple of ol' standards that used to rock The Sunday Afternoon Blues Jams at the West End Cultural Centre.
The show will feature Crankies by both Al Simmons and singer Debra Lyn Neufeld, who is also a very respected visual artist in Winnipeg.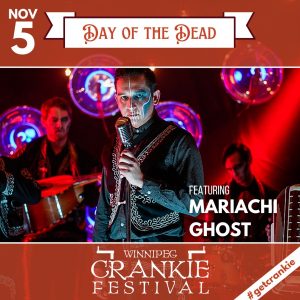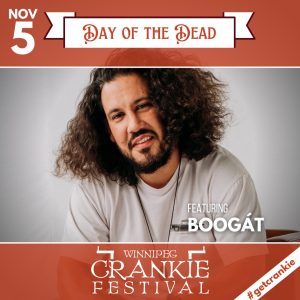 Time & Place: 7 p.m. at the Crescent Arts Centre (Crescent Fort Rouge United Church)
Featured artists: Mariachi Ghost, plus a streaming performance by Boogát from Small World Studios, in Toronto, ON, and special guest Brian Glow
Experience an interactive hybrid concert experience at the Day of The Dead with The Mariachi Ghost. This creative group of musicians and dancers wows audiences with their fusion of styles, genres, and feeling, with the culture of Mexico and Mariachi music sitting firmly in the group's heart and soul.
Mariachi Ghost's creative and inventive performances have made them favorites to local music fans, and this performance will be no exception. The entire venue will be the stage and screen, with projections covering the ceiling of the church. It will be a night to remember!
To start the evening we are celebrating the new ability gained in the last 18 months to connect interactively with other communities and other artists. We are excited to partner with Small World Music to bring you Mexican/Canadian Hip Hop artist Boogát, who will be performing live at Small World Studios in Toronto, and will be projected on The Crankietron (large screen)
There will also be a special guest appearance from the internationally acclaimed magician Brian Glow, just before The Mariachi Ghost close the show.
The audience in Toronto will have the same experience in reverse, first watching Boogat Live, and then The Mariachi Ghost on the screen at Small World. So both shows will be a completely new experience perfectly appropriate for The Crankie Festival. A Day of the Dead celebration and a hip hop show on a big screen, all at a church, temporarily known as the Cranktuary.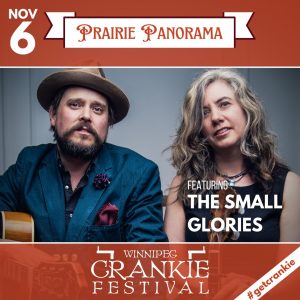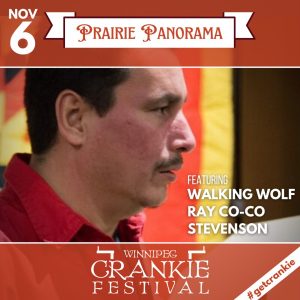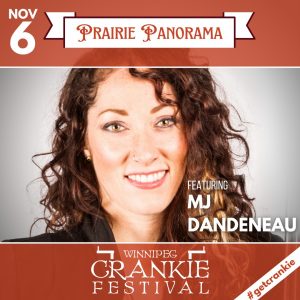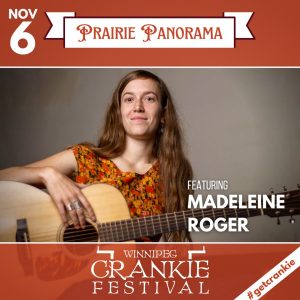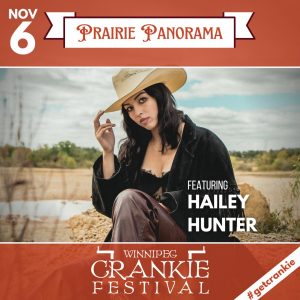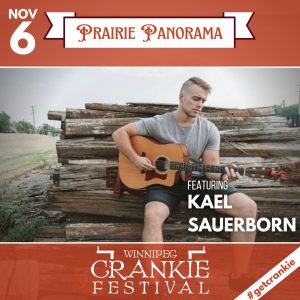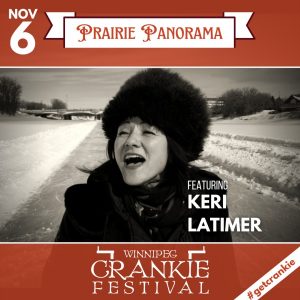 Time & Place: 7 p.m. at the Crescent Arts Centre (Crescent Fort Rouge United Church)
Featured artists:

The Small Glories, Madeleine Roger and Al Simmons, Keri Latimer & Hailey Hunter, MJ Dandeneau, Walking Wolf Ray Co-Co Stevenson with Kael Sauerborn, Del Barber with the Heide Sisters, Alexandre Tétrault and more

Crankies by: Chris Cooper, Candace Lipischak, Mike Spencer, Andrea Gorda, James Culleton, Melanie Wesley and Leonard Podolak
Get a sneak peak at Prairie Panorama, a new collaborative Crankie project featuring musicians and artists from rural Manitoba, funded with the generous support of Canadian Heritage.
Prairie Panorama pairs established Manitoba musician-mentors with emerging artists from across the province. The outcome: an exploration of rural Manitoban themes and thoughtful co-written songs, alongside beautifully crafted Crankies.
Pairings include Keri Latimer with Hailey Hunter (Killarney), MJ Dandeneau with Imrianna Jones (Flin Flon), Del Barber with The Heide Sisters (Clearwater), Walking Wolf Ray Co-Co Stevenson with Kael Sauerborn (Gimli) and Andrina Turenne with Alexandre Tétrault (Lorette). All produced new songs, and learned some of each other's material. Musicians were also paired with visual artists to put moving pictures,(Crankies), to each co-written song. All of these collaborations were filmed and recorded to be presented as a five-part video series with an accompanying podcast to be released in the near future.
This concert brings together some of the artists, songs and Crankies from Prairie Panorama together in one place in one truly spectacular evening.
Contributing to the Prairie Panorama Spectacular! are a few other acts you may have heard of, including Juno-nominated The Small Glories, as well as Winnipeg favorite, Madeleine Roger. Prairie Panorama will be hosted by internationally acclaimed vaudevillian, Al Simmons. unique show, that is not to be missed.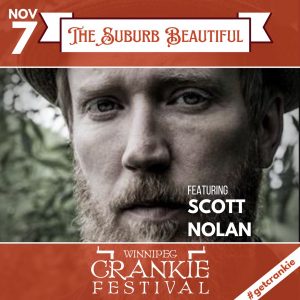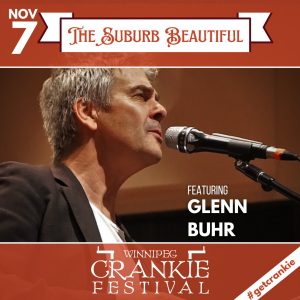 Time & Place: 3 p.m. at the Crescent Arts Centre (Crescent Fort Rouge United Church)
Featured artists:

Scott Nolan and Glenn Buhr
The Suburb Beautiful
Songs and Stories by Scott Nolan
Musical arrangements and expansions by Glenn Buhr
A collaboration between two storied Winnipeg musical icons: Scott Nolan and Glenn Buhr.
Winnipegger Scott Nolan is a well-known and well-traveled musician. He's a singer/songwriter who has spent years touring in the American south, and he's also a visual artist, poet, and charismatic story-teller; a prairie shaman, full of wisdom and humour.
Scott has just completed his long-awaited new album, The Suburb Beautiful, featuring arrangements and orchestrations by Glenn Buhr. All of Scott's new songs reflect Manitoba in some way and this program unveils the new music with sophisticated arrangements by Glenn's for their new 5-piece band.
Glenn Buhr co-directed the Winnipeg Symphony New Music Festival in the 90's as composer-in-residence, and his music is performed all over the world. Scott Nolan cut his musical teeth in Winnipeg punk bands and moved into his signature roots/country style during his tours with country music legend, Mary Gauthier.
In spite of their radically different musical beginnings, Nolan and Buhr are kindred spirits, both dedicated to reflecting their own landscapes through music and art. The songs are warm and friendly, and beautifully performed. They're often very funny; often sweet, sad and deeply felt. The enhancements by Buhr turn it all into colourful magic.