Join us 24-26 March 2023 for the 5th Annual Winnipeg Crankie Festival
Get ready to crank up the fun at the 5th Annual Winnipeg Crankie Festival. The Winnipeg Crankie Festival will be held in-person on March 24-26, 2023 in Winnipeg, MB at Crescent Fort Rouge United Church.

Cathy Jordan and The Crankie Island Song Project Manitoba Tour Nov 3-7, 2022
The Winnipeg Crankie Festival and Home Routes/Chemin Chez Nous, with the generous support of The Canada Council For The Arts proudly presents Cathy Jordan and The Crankie Island Song Project in Flin Flon, The Pas & Winnipeg November 3-7, 2022 (see ticket links below).
***UPDATE***


Hi Everyone – Unfortunately Cathy and the band were caught in the snowstorm on their way back from The Pas on Sunday. This means we had to postpone the Sunday concert and move it to Monday, November 7. If you have tickets for Sunday, they are good for Monday. This also means that the workshop that was supposed to be Monday is now canceled. If you have tickets for the workshop, you can use those tickets to attend the concert. If you had tickets to both the concert and workshop, please contact WECC on Monday and they will refund your workshop ticket. As well, if the rescheduled concert date doesn't work for you, please contact WECC on Monday for a ticket refund.

We apologize for any inconvenience caused by these changes.

Update: We can report that band arrived safely in Winnipeg late Sunday night.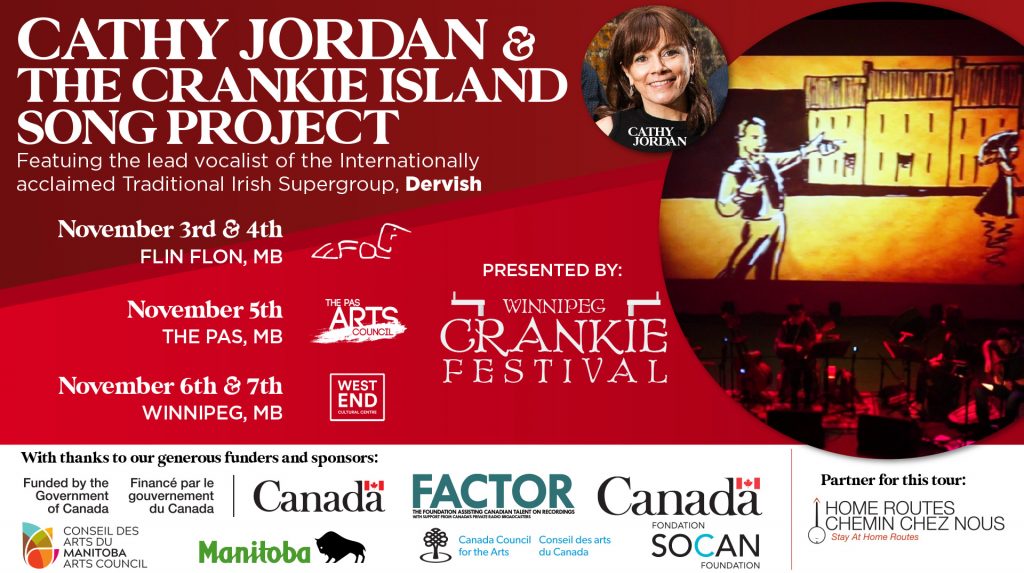 CATHY JORDAN has been the front-woman with traditional super group Dervish for nearly 30 years, and has dedicated her life to the nurturing and preservation of traditional music, and in particular, traditional songs. During her lifetime she has collected hundreds of these songs which otherwise might lay undiscovered and unsung, gathering dust in the archives.
Her latest project – THE CRANKIE ISLAND SONGS – sees her collaborate with visual artist PETER CRANN in order to add yet another dimension to these beautiful gems. Any entwining of Cathy and Peter's talents guarantees a project worth getting excited about. Cathy, after all, is one of Ireland's most distinguished creative musical forces of any genre or era. And Peter is that ever so rare triple-threat of gentleman, artist, and craftsman in one, with a gift for evocative simplicity.
This latest collaboration between the pair – named after a piece of vintage magic-making machinery, the memorably monikered CRANKIE BOX – bears all the hallmarks of both.
Cathy and Peter will be accompanied by Rick Epping (Harmonica Concertina, Banjo), Anna Houston (Cello), Seamie O'Dowd (Guitar) and Claudia Schwab (Fiddle).
Tour Dates
Nov 3 Flin Flon Community Hall – Concert – Click here to buy tickets
Nov 4 Flin Flon, Johnny's Social Club – Workshop/Jam  – Click here to buy tickets
Nov 5 The Pas, Kelsey Community School – Please e-transfer $20.00 per ticket to pasarts@hotmail.com
Nov 6 WECC, Winnipeg – Concert – Click here to buy tickets
Nov 7 WECC, Winnipeg – Workshop/Jam – Click here to buy tickets